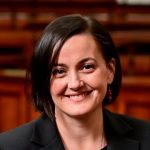 After 11 years of service, our Pastor for Teaching and Worship, Rev. Carolyn Francis, is concluding her ministry at Collins Street. Early in 2022, Carolyn will  take up her appointment as Lecturer in Baptist Identity and History at Whitley College in the University of Divinity.
Expressing gratitude to God for the gift of Carolyn's ministry, the church will gather on Sunday October 24 to say farewell. We will do this in two ways: in a livestream service of thanksgiving at 10.30am and in a Zoom gathering at 1.00pm.
If you require further details, you can email the church office. Contact details are here.